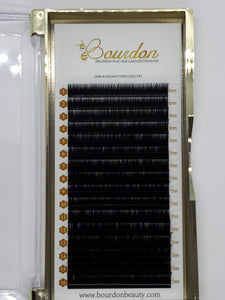 Mega fluff!!!!
These lashes are absolutely stunning!  Semi matte deep black color. You can use as many as 15 lashes per fan with these gorgeous lashes. 
With Mega Volume being all the rage, you will be happy you put these in your basket. You can create a black out look or use them for a more natural look on clients who require a lighter lash. Only the highest quality products are used In the making of Bourdon lashes. Synthetic Silk is super flexible allowing you to create the perfect fan. The way they sit on the glue strip makes it easier to spread the lashes and makes pick up a breeze!
16 lines per tray. Foil backed for easy removal. 
Animal and Cruelty free♡ 🐝