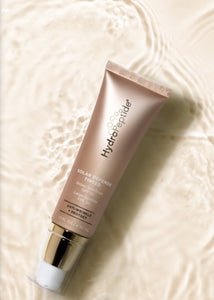 This SPF provides broad spectrum protection and radiant, even-looking skin. Solar Defense will protect from UVA, UVB and infrared rays while enriching the skin with hyaluronic acid to lock in moisture and a blend of calendula, cucumber and acai extracts to guard against free radicals.
Brighten your complexion with this tinted SPF that instantly adapts to any skin tone for a healthy glow.
A unique blend of calendula, cucumber and acai extracts provide a rich source of antioxidants to nourish and protect the skin from free radical damage. The skin-soothing aloe vera, allantoin and chamomile calm sensitivity that can come with extended exposure to sun. Hyaluronic acid and a probiotic complex restore barrier function, working in tandem with natural mineral sunscreens to boost sun protection while conditioning and nourishing the skin. The result is moisturized, mattified and even-toned skin that protects from the sun's harmful rays for up to 2 hours.